.
07/11/2018
Welcome Dorothy Tully-Petersen
PRESS RELEASE
FOR IMMEDIATE RELEASE
July 11, 2018
Mississauga ON
Priority Wire and Cable, Inc. announces the hiring of Dorothy Tully-Petersen as its National Sales Manager for Canada
Dorothy brings 25 years of solid sales and marketing experience in the Electrical Industry, working at the national level in manufacturing with Alcan Cable and IDEAL INDUSTRIES, and in distribution with WESCO. For the past five years she has served as principal business development consultant with INCEPT Strategies.
In her new role as National Sales Manager, Dorothy will be responsible for continuing the growth of our sales in Canada, and will manage our Sales Representative network and Inside Sales team. We look forward to her leadership in working with our channel partners and end-user customers.
Dorothy will be reporting to Robert Strahs, Vice President National Accounts & Marketing – USA.
Dorothy can be contacted at 647-354-0625 or dtullypetersen@prioritywire.com, and will be working out of the Canadian Headquarters at 6865 Northwest Drive, Mississauga, ON L4V 1E6 (Office: 1-877- 611-5122, Website: www.prioritywire.ca)
Priority Wire & Cable Inc was founded in 1993 in Little Rock, Arkansas and is a modern manufacture with the majority of our sales being Priority branded products. We also fill out our product offering with specialty wire and cable products, sold generically or under other industry leading brand names. This allows us to provide a product offering and service level unmatched by other industry factories or brokers. We sell only to wholesale distribution and provide same day shipping from our fifteen North American distribution centers (fourteen in the U.S. and one in Toronto). With a total of 1.7 million square feet of warehouse space we have industry leading fill rates and next day delivery to most customers. If you are a current customer, thank you for your business as you have helped us become the fastest growing wire and cable supplier in the industry. If you are a potential customer, we hope you give us a chance to prove why we are growing so fast. If you are an end-user or contractor, we hope you are asking for our product by name.
---
.
06/26/2018
Odessa Open House
Please join us this week at our Odessa Open House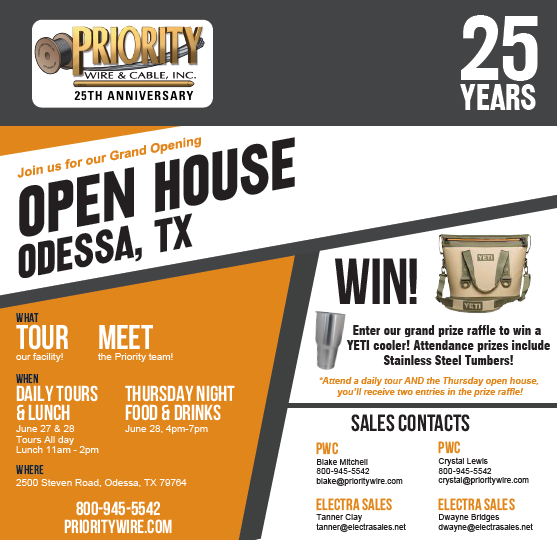 ---
.
04/23/2018
Houston Open House
Please join us this week at our Houston Open House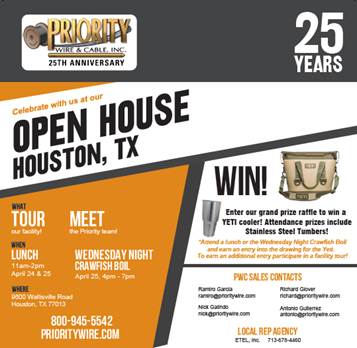 ---
.
04/19/2018
Price Increase Effective Immediately
To our valued Distributor Partners,
Due to the recent significant increases in the costs of aluminum and copper, we find it necessary to cancel all Net Pricing Sheets, currently in the field. Until further notice, please contact your Priority Wire & Cable inside salesperson for pricing and all quoted pricing will be firm for one day at a time.
As soon as the pricing of aluminum and copper stabilizes to more consistent levels, we will issue new sheets.
Thank you for your support and understanding,
Rob Strahs
ice President National Accounts & Marketing
---
.
01/22/2018
Welcome Dana Berberet
Priority Wire & Cable, Inc. welcomes Dana Berberet as the new Midwest Profit Center Manager. Dana will be responsible for the Ohio, Michigan, Indiana, Northern Illinois, Wisconsin, Minnesota, North & South Dakota territories. Dana will be managing the corresponding inside sales teams and coordinating with our agency and distributor partners.
Dana brings a wealth of knowledge to Priority Wire & Cable from her previous work experience, which included GE Supply, Callas/Kingsley Electrical Sales and Mulcrone & Associates.
---
.
01/15/2018
Welcome Pat McClafferty
We are pleased to announce that Pat McClafferty has joined us as Director – Utility Market. He will be working with us to provide an increased focus on the sales and sales support of Priority Wire & Cable's utility products. He will be interfacing and transacting directly with electrical utilities, utility distributors, as well as our Manufacturer's Representative Salesforce.
Pat's utility background goes back to his father who was a lineman for PG&E in California. Prior to joining our team, Pat was Vice President Utility Sales & Service at Arkansas Electric Cooperatives, Inc. (AECI) where he served for over 23 years. He has also worked with Diversified Electric Supply and Graybar.
In the past, Pat has served as President of the Arkansas Electrical League, President of Electric Utility Distributors Association (EUDA), and a member of the supplier's advisory council for Utility Purchasing Management Group (UPMG).
---
.
01/01/2018
Price Increase effective January 1, 2018
Due to the rise in commodity prices (copper, aluminum, steel and resins) as well as other cost factors we are initiating across the board price increases within the U.S. and Canada from 6 to 10% on our product lines effective immediately.
All indications point to sustained or continued increases in commodities as well as other costs leading us to believe that prices will go up and stay up.
Please contact your Inside Salesperson for current price and delivery.
---